Mark Pearson
PGA Professional, Academy Director, PGA European Tour Coach
Biography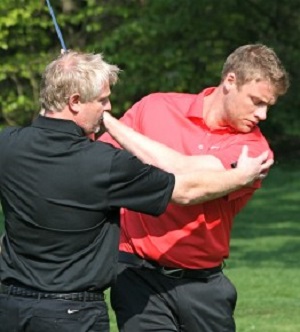 Mark, previously Head Teaching Professional at the Belfry moved back to his native Yorkshire as Director of Instruction at the Oulton Hall Golf Academy in 2007 as well as combining this role with that of coach to his stable of European Tour players. Throughout his career Mark has given over 30,000 golf lessons to all levels of golfer, he has developed successful Academies from scratch, managed world class facilities and been innovative in providing coaching programmes for all standards of golfer. In addition Mark has presented at PGA Coaching Conferences and has coached golfers that have played at all levels of the amateur game and Professionals that have won tournaments on the Europro, Challenge and PGA European Tours.
As well as a successful golf coach Mark has been a regular contributing Professional to magazines, such as Today's Golfer as well as TV appearances on the Golf Channel, Sky Sports and a commentator for the PGA Europro Tour. Mark has worked with many tour players is particularly proud of the 11 years coaching Phillip Archer which saw him develop from a talented assistant Professional to one of Europes's top 30 and a GB&I Seve Trophy team member. More recently Mark has helped Sam Walker retain full playing rights on the PGA European Tour for 2012 and Chris Hanson dominate the PGA EuroPro Tour as leader of the order of merit in 2011. In addition to an accomplished coach Mark has an array of corporate golf skills and a regular on the after-dinner speaking circuit.
Philosophy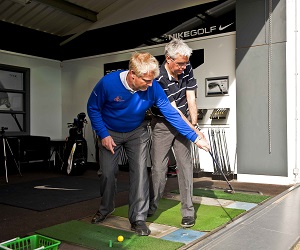 Mark believes very much in a no stone unturned approach to coaching all his players whether tour players or beginners. His methods are thorough and carefully thought out but simple in their final delivery. He is a big believer of structured practice and a massive fan of video communication via email and internet. In short it's SMART coaching. From a coaching education point of view Mark has taken his influences from his early readings as a child of Hogan, Snead and Nicklaus.
Since turning Professional he was able to work alongside John Jacobs and describes him as 'the master of the quick fix, and a lesson to all coaches' .As a late 80's early 90's trainee It would be impossible not to be influenced by the Faldo Leadbetter period, the advancement of anaylsis technology and more latterly the Tiger phenomenon. However it is the experience of time spent with his players that Mark cites as the real development of him as a coach. 20 years in the trenches day in day out is the learning ground for any coach plus a thirst for knowledge and a desire to be the best coach he can be. Mark now uses Trackman III radar technology in all his lessons.