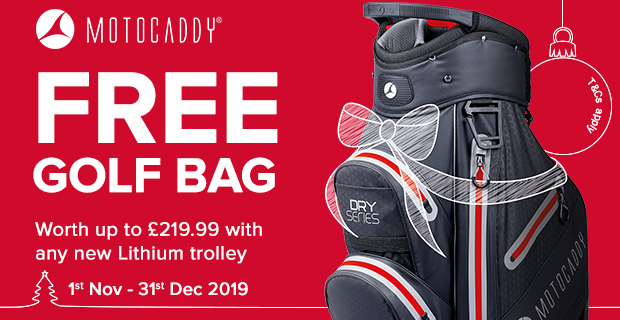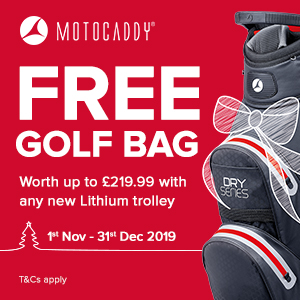 It really is as good as it sounds...
Right now, if you buy any Motocaddy Lithium trolley in the run-up to Christmas, you will be able to claim a FREE Motocaddy cart bag worth up to £219.99 on Motocaddy's website.
That is a huge saving to be had!
What to do next?
Click here to explore Motocaddy's electric trolley range
If this has tickled your fancy in the run up to Christmas, make sure you come and speak to a member of the team in-store and we'll be happy to help you further.

Terms and conditions
Purchase any new (i.e. not used, ex-demo, ex-courtesy cart or ex-rental) Motocaddy trolley with Lithium battery between Friday 1st November and Tuesday 31st December 2019 inclusive to be eligible to claim a free Motocaddy golf bag. The bag model is dependent on the following criteria:
a. Purchase an S1 Lithium, claim a Lite-Series bag worth £119.99
b. Purchase an M1, claim a Club-Series bag worth £139.99
c. Purchase an M1 DHC or M3 PRO, claim an AquaFLEX bag worth £199.99
d. Purchase an M5 CONNECT, M5 CONNECT DHC, S7 REMOTE or M-TECH, claim a Dry-Series bag worth £219.99
Promotion only available on purchases made and delivered inside the UK and Republic of Ireland.
Promotion only available to participants resident within the UK and Republic of Ireland, with an address in the UK or Republic of Ireland for the bag to be sent to.
Promotion not available in conjunction with any other offer.
Promotion available by redemption only - not available at point of purchase
To redeem the promotion, complete a promotional claim and upload a digital copy of proof of purchase at www.motocaddy.com/freebag.
Promotional claims must be submitted by Sunday 19th January 2020. Any claims received after this date will not be accepted.
Entering incorrect warranty or claim information may result in delay or rejection of promotional claim.
Proof of Purchase must be printed receipt or Debit/Credit Card statement. Hand written receipts are invalid and will not be accepted.
The Motocaddy trolley must be received by the claimant before the promotional end date for the claim to be valid. Claims for trolleys ordered but not received before 31st December 2019 are invalid.
Any claims for purchases outside the promotional dates are invalid.
Free golf bag model and colour will be at the discretion of Motocaddy.
Free golf bag will be delivered within 25 working days of receiving the claim. If a free bag is not received within 25 working days, please contact Motocaddy within the next 7 days.
If a trolley is returned, Motocaddy will require the free bag to be returned.
Promotion available subject to availability and Motocaddy reserve the right to withdraw the promotional offer prior to the promotional closing date without notice.
Promotional terms and conditions are subject to change without notice.
Motocaddy reserves the right to disqualify claims which it considers do not comply with these terms and conditions or are considered fraudulent.
Product alternatives are not available unless offered by Motocaddy only.
Cash alternatives are not available.